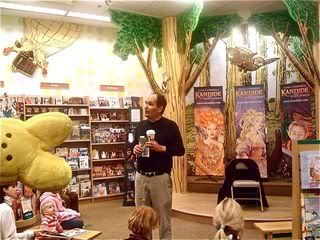 This is me holding a cup of mocha. The photo is courtesy of Lisa Yee -- there's a giveaway visual clue in the frame, for you literati/congnescenti -- and the java was provided by the folks over at Barnes & Noble in the L.A. -themeish outdoor shopping mall, "The Grove."

The Grove is designed to look sort of like a small village with winding streets, kind of human scaled, so you can go for a stroll. Outdoors, as it were. Now imagine that small village festooned with the logos of various retailing corporations, and you'll get a sense of what the space is like.

It was busy, a couple Sundays back, when I was there. Signs of an economy still-holding, or of doughty consumers spitting against the prevailing winds?

I was mostly indoors, holding forth at event put together by L.A.-based fantasy author Diana Zimmerman and others, called "Faries, Fantasy and Magic at the Grove."

There were outdoor events featuring artwork from Diana's publishers, Noesis, who specialize in works illustrated by the frolickin' Froud family -- Brian, Wendy, and their son Toby. Brian Froud.

If you're a fan of elvish and fairy art, then you know Froud's stuff already -- his wife Wendy was a puppet designer for "The Dark Crystal," which used Froud designs.




I'm always reminded of Telegraph Avenue in Berkeley, in the 70's, when I see Froud art. Being in a place like the Print Mint, or Comics & Comix, or Northside Books, or maybe even Cody's. All those places are gone now. Sigh.

But Froud's art isn't!

A local indie bookstore had recommended me for this event, and I was happy to be included. In keeping with the day's themes, I read from the Arthur/Merlin sections of the second Danger Boy book, "Dragon Sword."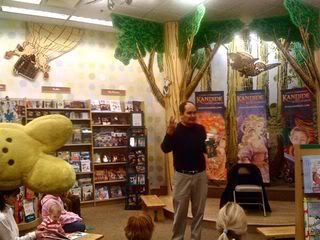 It was fun, and I apparently did much gesticulating that afternoon. There were some good questions about the Arthur's sword, "Excalibur," which I had to liken to a Jedi light-saber, in terms of devising an analogy for young reader, about not wanting such an implement to fall into the wrong hands.

Besides Lisa giving generously of her time (and bringing her clan along, to boot!), and her digital snaps, author pals Michael Reisman and Mel Gilden were there, as well.

Being in the kind of shop that literally sells one's wares does lead to "shop talk," as it turns out. And the magickally-minded assemblage who'd come to hear some bosky dell-set storytelling also had a fistful of writers to query and chat with.

Though for my part, I went more for the shores of a lake than a bosky dell.

And speaking of magical creatures, I'm still waiting to meet the Green Man. But that's another post entirely.